Each month more producers in Africa are discovering the value of increasing the energy efficiency of their poultry housing, according to Allan Meldrum, director of Food Chain Innovation Ltd.
Over the past year producers in six African countries have begun using the energy-efficient lining Valéron AVA which provides a durable radiant barrier to maintain a favourable environment in the poultry house.
The latest sales are to Kenya, South Africa, DRC Congo, Tanzania, Zambia and Botswana.
"People using it report better environment control than ever," said Allan Meldrum. "They are experiencing increased productivity, reduced brooding costs of around 25 per cent and in some cases the ability to increase stocking rates by more than 20 per cent.
"We now have repeat business from many of our clients, and are looking to expand our activities in other parts of the world. Currently we have advanced negotiations with companies in Papua New Guinea, Saudi Arabia, Jamaica, Chile and China."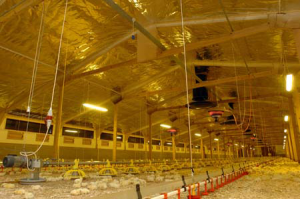 Valéron AVA is a lining material with two highly reflective aluminium surfaces for optimising energy usage, helping to keep poultry cool in hot climate and conserving heat in colder zones. It is manufactured in the UK and Belgium to seal units from air leakage and moisture as well as enhance climate control.