An insulation lining used worldwide for improving the environment of poultry housing is being adopted for a new project for the first time in the UK and Ireland.
The high strength Valerón AVA film is widely established for renovating existing roofing with an energy efficient, durable lining that provides an effective heat shield in summer and minimises warmth escaping in winter.
The product is now benefiting a UK broiler unit in Gloucestershire where the Phelps family has chosen to incorporate it in a new 200,000-bird unit near Hartpury.
The unit was designed to provide the most beneficial specification for a cost-effective, timber-framed building by Northern Ireland based poultry housing suppliers, E & C FitzGerald Ltd.
After detailed design meetings Eamon FitzGerald proposed a system to fit Valerón AVA on the internal side of the pre-made insulated panels which were then fitted to the roof. This reduces the amount of insulation needed and virtually eliminates transmission of water vapour.
Another benefit is in energy saving in lighting. The bright, highly reflective surface of the lining provides an even spread of light across the house, reducing the energy consumption for lighting.
"The product is well proven from its use in at least 16 countries in hot and cool climates around the world," said Allan Meldrum, director of Food Chain Innovation, which supplies Valerón AVA for the poultry industry. "It has been used in refurbishing a number of poultry units in the UK — but this is probably the first application in a complete new project in the Northern Hemisphere."
Food Chain Innovation is a joint venture between Allan Meldrum and Jim Johnston, two widely experienced entrepreneurs in the global poultry business, set up to bring innovative technology to the food chain from other industries.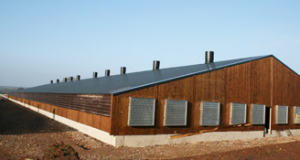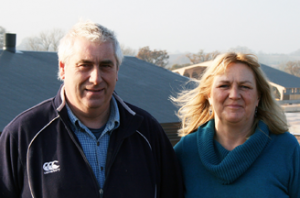 Geoffrey and Sybil Phelps